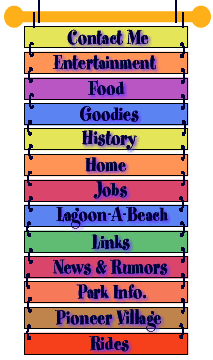 News and Rumors
05/Jul/01
Cliffhanger is open, and worth every minute to wait in line.
The "Goodies" page has some new wallpaper tiles for your computer.
30/Apr/01
The links page has a new link to "Coaster Count"
Cliffhanger is supposed to be open mid-to-end of may..
On the rides page, I have added photos of the "Terroride", The Samurai, The log Flume, and Double Thunder Raceway.
09/Mar/01
The Disney channels original movie "The Luck of the Irish" has Lagoon shots in it. Thanks to Buck_102 for pointing that out.
06/Mar/01
I have some new photos coming very soon.
02/25/01
In front of the Wild Kingdom train there is work adding a bunch of planters, I don't know if they have removed anything and how this is going to benefit those waiting to board the train?
Where Speedway Sr. used to be "Jabooka Juice" is the only structure standing on the west side of the midway, to the back of Music USA. Games has lost their "Speedball" and "Basketball" games, north of the Wild Mouse, to Cliffhanger. However they have been moved in front of Music U.S.A.
Music U.S.A is getting a new entrance, which is supposed to look a lot nicer.
Games' Prize Center, is being turned into a new central Merchandise stand, named "Central Park". Central Park will be a lot like Rad Brads but there is supposed to be talking trees and animated birds. The Prize Center is being relocated into Game Time.
Arby's is moving into the old Gas Light Restaurant by the Opera House.
Due to budget cuts, supposedly there will be no show in PioneerVillage.
01/01/01
For those of you wondering what is in store for you in the 2001 season, click here to find out.
There's another exciting rumor that Lagoon has finally been able to purchase the land to the north of the park, there are endless possibilities as to what could be put there, we will have to wait and see, If I find out anything else I will post it here.